MCKS Pranic Healing Sessions
Feel Better Naturally! Experience powerful Pranic Healing treatments.
Share with Friends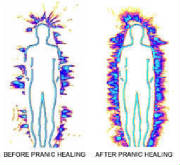 All pranic healing sessions are performed by an experienced professional Certified Pranic Healer and Instructor, Certified Pranic Psychotherapist, an authorized personally trained student of Grand Master Choa Kok Sui. Pranic Healing is our profession. That's why we are committed to solving your problems and good at producing results!
Privacy guaranteed!
HOW DOES IT WORK?


We are not medical doctors. We do not touch physical body and do not make any medical claims. We work on the etheric energy body of a person by removing the areas of congestion and supplementing the areas of depletion. When energy body and energy centers are clean and energized, pranic energy flows smoothly and distributes evenly. That results in the increased ability of the physical body to mobilize the protective forces and expedite the natural innate ability to heal itself. If an etheric energy body is balanced, the physical and emotional processes tend to follow the mold. An experienced Pranic Healer can greatly influence this process.
WHAT CAN BE HEALED BY PRANIC HEALING?
Although we gently facilitate this process, it is actually your own body that heals itself. In our practice, we have seen a wide variety of ailments substantially relieved or completely remediated. Call us to discuss your issue.
HOW TO GET STARTED?
Each person is different and responds differently to different things. We offer a single session for you to try. If you like it, the packages of multiple sessions are available at a discounted rate.
Stress Relief
From emotional hurricane to serenity. These stress management and emotional healing treatments are the special "signature" technique performed hundreds of times with remarkable repeated success by a Certified Pranic Psychotherapist. Experience deep relaxation and stress relief, help alleviate tension and nervousness. Stop suffering and get your life back. We mean it!
Read More
Allow our specially carved, programmed and consecrated high-quality crystals to "vacuum" all your energy centers, major organs and entire body. Performed by a qualified and specially-trained experienced pranic crystal healer.
Read More
Etheric Hygiene
You know the benefits of organic food, physical and oral hygiene but often neglect the hygiene of your energy system. This is your chance to treat yourself to this energy hygiene delight and receive a complete energetic shower. Purify yourself, flush old, dirty and used-up prana, remove old trends, cut negative connections that drain your energy, clean your aura, receive chakra cleansing and balancing. Then indulge yourself in the waterfall of fresh and revitalizing energy.
Pamper yourself with this pranic beauty treatment, remove the signs of stress deeply embedded in the facial and neck tissue. Tighten your skin and restore the radiant glow of your face. The Pranic Healing Facial Rejuvenation Program is a safe, no-touch, simple approach of achieving a healthier younger looking face
Read More
Mental Performance
Sharpen your mind, activate mental faculties, ability to focus and stay alert, improve creativity, clarity of thinking. Feel more alive and energized.
Dream Come True
Recomended for the graduates of Kriyashakti course! This is our materialization service. We will help you to super-charge your wish and remove obstacles on your path to your goals. The service is performed in a non-injurious and loving way to everyone involved. We will help you to manifest what you are entitled to but had difficulties to attract. This service may be combined with other sessions.
House or Land Purification
Is your house is an un-happy place? Do you feel drained? Are there dark thought forms and depressive emotions? We will clean your house or office, the land around it nd restore the normal flow of energy so peace, joy and prosperity can settle there.

Fatigue, Low Energy

This session will help you to develop strength and increase your overall energy level, achieve alertness and vitality. Feel more awake and energized.




Menstrual Pain

The issues of menstrual cramps and discomfort respond incredibly well to pranic energy treatments. We have been able to put a grateful smile on the faces of many women. Better to be done 3-5 days prior to the period




Sports Injuries

Thorough Pranic Healing treatments allow to substantially reduce the time required for injuries to heal or recover after the surgery. Shorten the time on the bench and reduce the use of pain killers.




Sensitive Stomach

Among variety of gastro-intestinal dysfunctions, persistent constipation can be remarkably relieved by the application of pranic energy healing sessions.

Pain Relief

Sooth your pain and get back into the comfort zone. This is our popular pain relief service. Relieve headache, back, muscle and joint pain, Powerful and effective!

Chemotherapy can be tough on the body. Often it produces the side effects such as nausea, constipation, vomiting, general weakness, fever, veins hardening and others. Pranic Healing treatment is proven to give you more energy to go through these treatments

Read More


Pranic ER - Pranic Energy Rescue


Life sometimes throws at us challenges that catch us off-guard, test our willpower and faith and abilities to function in crisis. Pranic Energy Rescue is our service that provides remote energetic support to general public and pranic healers that are caught in crisis. Don't get overwhelmed by the sudden problems, give us a call and we will start working remotely on you and/or your loved ones. If you have a medical emergency call 911 and seek medical help immediately. Read More




Other conditions:

- call us to discuss your particular issues.

Remove Negative Connections

A two-hour thorough pranic treatment to remove unnecessary, unauthorized, negative and draining energetic connections with other people or past events. Release old deeply seated attachments that sabotage your happiness and success. Disconnect cords to your previous relationships and traumas. Get healed from the past. Move on with your life.